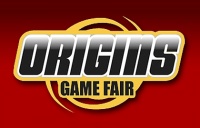 Attendance at the Origins Game Fair, the annual show organized by GAMA in Columbus, Ohio, was up around 6.4% this year, according to GAMA Executive Director John Ward, with 10,669 unique attendees registered. Exhibit space sold out three weeks before the show, and increased sponsor activity added up to a "brighter" show, Ward told us.
Attendance in 2009 dropped around 18% from the previous year (see "Origins Attendance Down"), so the 2010 show reversed that negative trend.
The first ever Origins Trade Day (see "Origins Trade Day") "did not go as well as I had hoped," Ward said, "but we're looking at ways to enhance the format for next year."
"We're comfortable about the model of having GAMA provide trade events before consumer shows," he said. "We tried it at Origins, a fairly large scale show, and have a fairly good plan on how to implement that."
Ward went out of his way to thank the supporting sponsors and exhibitors, and especially the GAMA volunteers, who he described as "super-committed" and a big part of the success of the show.