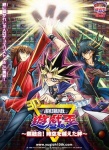 4Kids Entertainment has acquired the rights to the 3-D anime feature, Yu-Gi-Oh! 3D: Bonds Beyond Time. The 3-D feature film debuted in Japan in January in a limited number of 3-D venues and earned a solid $3.6 million in its initial weekend. Given its extra-dimensional appeal, a theatrical run here in the U.S. in the spring of 2011 appears likely. 4Kids has acquired theatrical, television, and home video rights for all territories outside of Asia.
Produced in association with the 10th anniversary of the Yu-Gi-Oh! property, Bonds Beyond Time features the protagonists from all three of the Yu-Gi-Oh! anime series, Yu-Gi-Oh!, Yu-Gi-Oh! GX, and Yu-Gi-Oh! 5D's: Yugi Muto, Jaden Yuki, and Yusei Fudo.
In Japan, Konami Digital Entertainment, which produces the hugely popular Yu-Gi-Oh! Trading Card Game, distributed the "Malefic Red-Eyes Black Dragon" promotional card at screenings of the Yu-Gi-Oh! 3D: Bonds Beyond Time feature film, a great promotional move that is likely to be repeated here next spring.