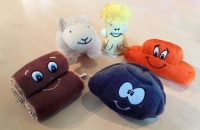 Mayfair Games has made its first Catan Goodies, plush, bean-stuffed collectibles called Catanimals, available to the trade. The Catanimals were originally given out as prizes for children taking part in the Catan Pages and Squires program at the Origins Game Fair and Gen Con Indy and were a big hit, so are now available to retailers.
These fuzzy collectibles correspond to the well-known resources from the Settlers of Catan game: brick, ore, sheep, wheat, and wood. Each Catanimal is about six inches in size and weighs about an ounce and a half.
Settlers designer Klaus Teuber has created a special rules variant for use with the Catanimals, which will be published in the near future.
Catanimals are available to Mayfair Authorized Retailers direct from Mayfair Games, through some distributors, and are being sold on the Mayfair Website. Each collectible plush figure has a suggested retail price of $5.00.
More Catan Goodies are planned.