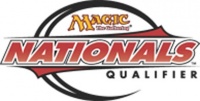 Wizards of the Coast will be expanding its Wizards Play Network program to include Magic: The Gathering National Qualifier tournaments starting in April. Over 200 National Qualifier events are planned in select WPN stores throughout North America.
The National Qualifier will still feature regular regional events run by professional tournament organizers as before. The new WPN events are an expansion of the existing tournament process. Each participating WPN Advanced-level store that hosts a qualifier tournament will send one participant to the 2011 United States National Championship.
The regional tournaments will be held in 17 cities in the US on April 16. The following two weekends, on April 23 – 24 and April 30 – May 1, the WPN stores will hold their qualifier tournaments.
The 2011 National Championships will take place August 5 – 7, 2011 at Gen Con Indy. Each player who qualifies will receive a 4-day pass to the convention.
The Wizards Play Network was created in 2008 as a way to improve in-store events and programs for retailers who carry WotC products.