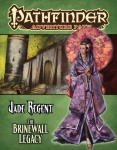 Details on the first three products planned for the new Jade Regent Adventure Path for the Pathfinder RPG have been released by Paizo Publishing. Set in the distant region of Tian Xia, this series of adventures and supplements feature traditional Asian fantasy themes such as samurai, ninjas, and Eastern-style monsters and magic.
The first adventure module for the Jade Regent series is planned for an August 4 street date. In Brinewall Legacy, the players discover a mystery hidden in Brinewall Castle that leads them to travel to distant Tian Xia, where they are introduced to the themes of the new Adventure Path. This full-color softcover book will be 96 pages. Suggested retail price $19.99.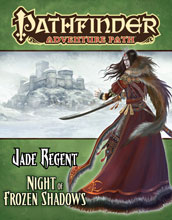 September will see the second installment in the
Jade Regent
series:
Night of Frozen Shadow
. The players are confronted with the perils of their journey to Tian Xia and must contend with the assassin group called the "Frozen Shadows." Includes details on the lands of the "Linnorm Kings," new monsters, and a goddess of Love and Art. 96 full color pages, softcover. Suggested retail: $19.99.
Night of Frozen Shadow
ties in with another September Paizo release:
Lands of the Linnorm Kings
.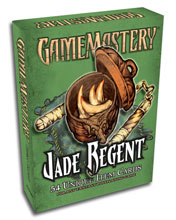 The
Jade Regent Adventure Path
will also be supported with the
GameMastery Face Cards: Jade Regent
. This gamemaster aid comes in the form of a 54 card deck that features illustrations and game information for items and treasures that will be found in the Eastern-themed setting. Fully compatible with all other Paizo
GameMastery
item card sets and useable with any fantasy roleplaying game. Suggested retail price: $10.99