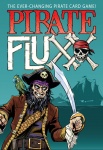 Looney Labs has announced that its Pirate Fluxx card game, which was released in February and has sold over 12 thousand copies so far, is now getting bookstore distribution. The game is currently available at Borders and will be on the shelves at more than 500 Barnes & Noble stores shortly.
Pirate Fluxx
, the latest iteration of Looney Labs'
Fluxx
(the card game of ever-changing rules), is designed to take advantage of the current vogue for all things piratical thanks to the new
Pirates of the Caribbean
movie that debuts this weekend as well as a pirate-themed cartoon on the Disney channel (see "
Pirate Fluxx
" for a more complete description of the game).
So far Looney Labs has sold over a million copies of the various iterations of Fluxx, which was introduced back in 1996.