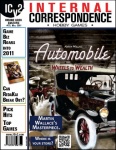 The game business in the hobby channel had a great first quarter, according to the market report in
ICv2's Internal Correspondence
#75, with accelerating sales in multiple categories. Descriptions of Q1 hobby channel game business quoted in the report included "spectacular," "a really big upswing," and "a really healthy growth pattern." Mass sales of hobby games were weaker, with more pronounced season shifts (Easter was later in 2011) and product-specific factors making growth difficult.
ICv2 began tracking bestsellers in what amounts to two new categories this month by splitting its old Board, Card, and Family game category into Board Game and Card Game categories. The new Card Game category not only gives more exposure to perennially bestselling card game families like
Munchkin,
it also is a way to track sales in the exciting new subcategory of deckbuilding games, which is growing rapidly. And the Board Game category now has a few more slots as well, allowing us to showcase more bestselling games in another steadily growing area of the business.
Dominion
,
Munchkin,
Thunderstone
, and
Ascension
were the top four in the Card Game category.
Settlers of Catan
,
Carcassonne
, and
Ticket to Ride
make up the top three in the Board Game category.
Long-running collectible games were the source of strength in that category, with Wizards of the Coast's
Magic: The Gathering,
Konami's
Yu-Gi-Oh!
, and Cryptozoic's
World of Warcraft
all getting high marks from hobby retailers for sales during Q1.
In the Non-Collectible Miniature Game category, rankings were stable, with increased concerns over chronic stock-outs on Privateer's hot-selling
Warmachine
and
Hordes
lines.
And in RPGs, WotC's
Dungeons & Dragons
and Paizo's
Pathfinder
continue to duke it out, with
D&D's
coterie of one-game stores, relative strength in the book channel, and organized play allowing it to still hold a lead over-all. That helps
D&D
overcome the stronger
Pathfinder
product schedule, which is swinging the balance in favor of the Paizo line in more stores that carry both.
For the lists of the bestselling Collectible Games in the hobby channel, in the mass channel, and over-all,
click here
.
For the bestselling Card Games in the hobby channel,
click here
.
For the bestselling Board Games in the hobby channel,
click here
.
For the bestselling RPGs in the hobby market,
click here
.
For the bestselling non-collectible Miniature Games in the hobby channel,
click here.
For information on how to get the new issue of
Internal Correspondence
#75, see "
ICv2 Releases 'Internal Correspondence' #75
."