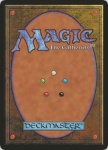 Former Wizards of the Coast employee Donald Henry pled guilty to a felony charge of Attempted Theft 1. Because he was a first time offender Henry was sentenced to time served and 24 months probation along with 240 hours of community service and the payment of $10,000 in restitution to Wizards of the Coast.
Henry was charged in conjunction with the theft of $45,000 in
Magic the Gathering
promotional cards that were stolen from a Wizards of the Coast storage locker (see "
Former WotC Employee Charged
"). WotC takes preserving the integrity of its promotional cards that are used to support its organized play programs very seriously. Last year WotC successfully sued tournament organizers it accused of diverting cards (see "
WotC Gets $100K
").