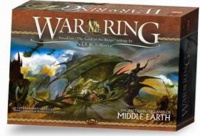 ICv2 has learned from sources in Italy that Italian publisher NG International, which publishes games including War of the Ring, Wings of War, and Magestorm under the Nexus Games brand, is in the process of liquidation. The company's entire staff, with the exception of CEO Savlatore Pierucci, who is overseeing the liquidation, has either been fired or resigned.
The Italian "liquidation" process is similar to a Chapter 7 bankruptcy in the U.S. as owners of NG International are selling the company's assets in order to pay its liabilities. Several of contracts between creators and NG International have been terminated, so it is possible that several of the Nexus Games could resurface from other publishers at some point in the future.
Of primary interest of course would be the new revised edition of the
War of the Rings
board game, which is based on J.R.R. Tolkien's fantasy classic
Lord of the Rings
, and which was scheduled for a September release (see "
Revised War of the Rings Board Game
"), but its fate remains uncertain along with those of a number of other games including
Aztlan
(see "
Leo Colovini's Aztlan
"),
Dakota
(see "
Dakota Board Game in February
"),
Magestorm
, the Jack-the-Ripper-themed
Letters From Whitechapel
(see "
Dakota, Funny Little Games in Whitechape
l") and the popular military board game
Wings of War
, which simulates aerial combat in the First World War (
First Collection
) and World War II (
Second Collection
).
At GenCon last year NG International announced that it would be selling some of its games directly into U.S. distribution channels (see "
Nexus Games Enters U.S.
").