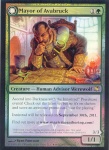 Players participating in tournaments at Magci: The Gathering: Innstrad Pre-Release Events, which will be all over the world this weekend on September 24th and 25th, will receive (while supplies last) an exclusive double-faced promo card, "Mayor of Avabruck/Howlpack Alpha, as well as an "Achievement Card."
Those who attend the pre-release events will have a choice of playing with the newest cards in three different tournament formats. In the "Sealed Deck" format each player receives six Innistrad booster packs to use for building a deck. In the "Booster Draft" event players will receive three Innistrad booster packs to draft with. In the "Two-Headed Giant Sealed" events, each two-player team gets eight Innistrad booster packs to use in building a deck.
In addition some locations may offer "Open Dueling" events for new players. "Open Dueling" players each receive 1 Innistrad Intro Pack and the promo card (while supplies last). "Open Dueling" participants can use their Intro Pack cards to play against each other, as well as pre-release tournament players who are between matches, and who should be encouraged to help teach the "Open Dueling" participants the finer points of playing
Magic
.
The highly anticipated
Innistrad
set of 264 cards introduces "double faced" cards to
Magic: The Gathering
, as well as a number of new characters and monsters such as vampires and werewolves (which is where the "Mayor of Avabruck" promo card comes in handy). For details on the
Magic: The Gathering: Innistrad
release see "
Innistrad
."