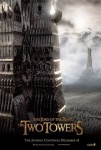 The Two Towers, the second installment of the Lord of the Rings trilogy debuted strongly on Wednesday, pulling in over $26 million from some 3,600 screens in just one day. In spite of the fact that The Two Towers is the middle film in this epic cinematic retelling of J.R.R. Tolkien's classic fantasy trilogy, and sequels generally don't fare as well as originals, it appears now that it will eventually surpass the $313 million total amassed by the Fellowship of the Ring, the first film in the trilogy. The Two Towers opening day gross was 44% higher than Fellowship's $18 million, and the phenomenon is not limited to the U.S. -- the foreign gross of $16 million is up 45% over last year's debut of the first film in the trilogy. Of course some observers might say that the hardcore Ring fans were responsible for the strong Wednesday opening and that the film will drop off precipitously, but advance ticket sales indicate that the Two Towers should remain strong throughout the holiday season.
Reviewers have been even more positive about the Two Towers than they were about the first installment in Peter Jackson's epic film trilogy.

Of the 119 reviews charted by the website Rottentomatoes.com, only 3 were negative.

Despite the fact that the Two Towers is opening during a week that will also see the release of Martin Scorsese's Gangs of New York, it still figures to do big numbers and should be well past $100 million in domestic box office by the end of its first weekend in release.