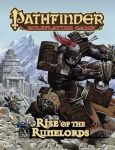 Paizo Publishing will collect its first six Pathfinder Adventure Paths, Rise of the Runelords, into a new updated hardcover edition for release in June. The special anniversary edition will celebrate five years of Pathfinder and ten years of Paizo publishing. It will be supported by a range of additional Rise of the Runelords products, including the second full Pathfinder Battles miniatures set from WizKids.
Rise of the Runelords Anniversary Edition will be a 420-page, full color hardcover edition at $59.99. It will take the original six Pathfinder Adventure Path publications and update them with current Pathfinder RPG rules into a complete Pathfinder campaign. The original campaign has been updated with new encounters incorporating community feedback, new monsters, detailed locations, and tons of new art.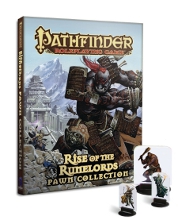 Support products from Paizo include
The Rise of the Runelords Adventure Path Pawn Collection
, a $15.99 collection of over 100 creature pawns printed on sturdy cardstock, also shipping in June. The cardboard figures will not come with bases; players are expected to use bases from the
Pathfinder RPG Bestiary Box
(see "
Bestiary Box
").
Other Paizo support products for Rise of the Runelords will include Item Cards, Flip-Mats, and Face Cards.
Reaper Miniatures will release metal miniatures tied to Rise of the Runelords.