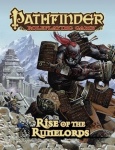 In June Wizkids will release its second major set of
Pathfinder Battles Minatures. Pathfinder Battles: Rise of the Runelords Part I
will include numerous new figures in a multi-figure blind booster format. The release of the WizKids pre-painted
Pathfinder Battles: Rise of the Runelords Miniatures
will support the release of a new Paizo's 420-page
Rise of the Runelords
hardcover, which collects and updates six
Pathfinder Adventure Path
publications (see "
Paizo Collects Rise of the Runelords
").
The first major WizKids blind booster Pathfinder Battles Miniatures release, Pathfinder Battles: Heroes & Monsters, which debuted in December, has already sold out from the manufacturer, though figures are still available from distributors and at retail stores.
Wizkids will continue to alternate blind packaged major releases like Pathfinder Battles: Heroes & Monsters with Pathfinder Encounter Packs, which typically contain six visible non-random selected repainted or re-sculpted figures from the full sets. In April WizKids is releasing the Pathfinder Battles: Champions of Evil Encounter Pack, which includes repaints of six highly detailed figures of some of the Pathfinder RPG's most fearsome creatures. This Encounter Pack is ideal for Game Masters who want an easy random encounter for their heroes or for collectors or players who want to jumpstart their zombie collections.
The April Encounter Pack release will be followed in June with the release of Pathfinder Battles: Rise of the Runelords Part I, which will include a major set of new figures in a release of equivalent scope to the Pathfinder Battles: Heroes & Monsters set that debuted last month.