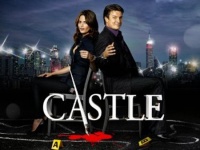 Cryptozoic Entertainment is adding to its licensed properties with the announcement at Toy Fair that it has acquired a license for ABC's Castle and will be producing a board game and trading card set based on the hit show.
Although the specific game play mechanics are yet to be revealed, a spokesperson for Cryptozoic told ICv2 that the Castle: Murder Mystery Board Game will "be a mystery game following the basic structure of the show." The game, for one to six players ages 15+, will take 30-45 minutes to play.
The Castle Season 1-2 Trading Cards will contain all of Cryptozoic's usual elements, including show art and character images, plus autograph cards, wardrobe cards, and more.
Both the Castle Board Game and the Castle Trading Cards will be released fall of 2012.