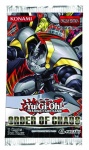 Konami Digital Entertainment is inviting all Yu-Gi-Oh! TCG players to the Long Beach Convention Center on March 24-25th to participate in the historic 100th YGO Championship Series and the newly-launched "Dragon Duel Championships" created exclusively for duelists 12 and under.
To commemorate the 100th YGO Championship Series Konami has commissioned two new event-specific game mats, including one for those players who make the top 32. In addition two "Dragon Duel" winners will receive a special bonus prize, a "Super Rare Blood Mefist" YGO Championship card.
Pre-registration for the Long Beach YCS event will run from 1pm to 7 pm on Friday, March 23rd, and will begin again promptly at 7am on Saturday. Upon registering duelists will receive five Order of Chaos booster packs. Round one will begin at 10am, and the top 32 (or 64 depending on attendance) finishers will earn invitations to participate in their 2012 World Championship Qualifier.