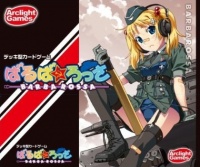 ICv2 has learned that Japanime Games is planning a December 2012 release for Barbarossa, an anime-based deck-building game that was originally published in Japan in 2010 by Arclight. The game basically posits an alternate history version of World War II. As Japanime's Director of Sales Eric Reasoner put it to ICv2, "Imagine if, during World War II, Germany and Russia had all anime-themed female armies and were fighting each other."
The Barbarossa Deck-Building Game uses a Dominion-like gameplay mechanism. Each player receives a deck of resource cards in the beginning and then acquires cards from an open pool. Players acquire "Victory Points" by conquering cities or key strategic points, and the player with the most "Victory Points" when Moscow is taken is the winner.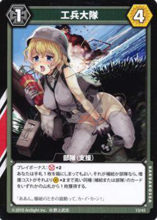 The Barbarossa cards feature anime-style images of the game's fetching female armed forces that should make it popular with anime fans. The game includes six different kinds of cards including "Supply Cards," which provide the points necessary to purchase other cards, "Unit Cards," which require "operation points," but can deliver "Victory Points," "Operation Cards," which can provide a one-time bonus, "Deploy Cards," that remain in a players territory and provide bonus points, "Target Cards," which mark the cities and strategic points, and "Event Cards," which are employed once a Target Card is attacked.
Reasoner told ICv2 that the Barbarossa Deck Building Game will be released here in North America in late 2012, probably December, and will have a retail price of around $50.