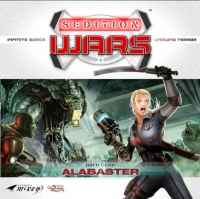 CoolMiniOrNot has announced plans to release a new tactical science fiction board game in November. The starter set, Sedition Wars: Battle for Alabaster promises fast-paced combat with a survival horror theme.
The game is set in a future world in which a corporate-dominated Solar Conglomerate, built on the back of genetically-engineered slave labor, maintains control through an elite military force called the "Vanguard." Against them stands the rebellious "Firebrand," fielding armies of gene clone warriors. Gameplay features cramped interior battlefields representing ships and stations.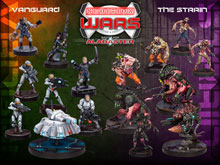 The boxed set includes 50 28mm plastic miniatures (unassembled and unpainted) with scenic miniature bases, five double-sided game boards, a 60-page rule and scenario book, game cards and tokens at a suggested retail price of $99.99. The game was funded by a very successful Kickstarter campaign that collected nearly a million dollars worth of pledged support.
Sedition Wars was designed by industry veteran Mike McVey, whose experience includes Warmachine as well as Wizards of the Coast's Dungeons and Dragons and Star Wars miniatures games, and Rob Baxter, who contributed to the Iron Kingdom game.