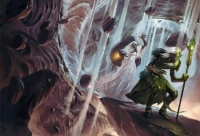 Wizards of the Coast has launched War of Everlasting Darkness, the final D&D Encounters season for Rise of the Underdark. The new season of the Dungeons & Dragons organized play program offers three new features: characters can level up at the end of each session, and will progress from level 1 to 8; players will have more character options to choose from, drawn from six different books; and each session will be more like a mini-adventure than an encounter. The War of Everlasting Darkness season will run through December 19th.
Rise of the Underdark
has been running across
Dungeons and Dragons
platforms since Spring (see "
'Rise of the Underdark'
").