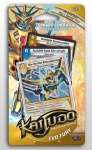 Evo Fury, the first expansion set for Kaijudo, Wizards of the Coast's collectible card game, is scheduled to release this month. The street date for the release is November 13.
The expansion introduces a new game mechanic, called "Evolution" that allows players to improve their creatures during play. There will be 60 new cards in the set, including cards for all five civilizations.
Evo Fury will be available as a competitive deck, called Tornado Generator, with a suggested retail price of $11.99. This deck includes 40 cards, a code card for online play, as well as a "super rare" and a "very rare" foil card. Booster packs will also be available for a suggested retail price of $3.99. Each booster includes nine game cards and a code card.
Kaijudo
is supported by an animated series on The Hub TV network, as well as a new organized play program. The CCG was the ninth biggest title in its category for Summer, 2012 (see "
Top Collectible Games--Summer 2012
").
ICv2 recently had an opportunity to discuss the marketing of
Kaijudo
with Wizards of the Coast CEO Greg Leeds (see "
Greg Leeds on the 'Kaijudo' Launch
").
--William Niebling