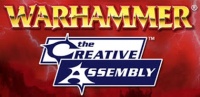 Games Workshop has licensed the rights to create video games based on its Warhammer tabletop miniatures war games to video game powerhouse Sega and Creative Assembly, the game studio behind the Total War series of video games.
A new development team has been set up at Creative Assembly's UK studio to work on the first Warhammer Fantasy Battles Video Game, which will be due for release in 2014 if all goes according to plan. Tim Heaton, the Studio Director at Creative Assembly, promised that his team will "be doing the Warhammer universe justice in a way that has never been attempted before."
If the Warhammer video game becomes a hit on the scale of Creative Assembly's Total War franchise, it will expose a huge number of people to the martial delights of the Warhammer universe.