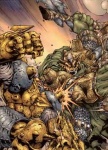 The Upper Deck Company announced at GAMA that they have acquired the rights to publish trading cards based on the white-hot Mage Knight miniature gaming system (see 'December Product of the Month'). The Mage Knight cards will debut in July and will feature artistic interpretations of the miniatures. Among the art pieces will be some of the original concept art that was used as reference material for creation of the figures. Upper Deck has also announced that each box of Mage Knight cards will include a chase figure -- an actual Mage Knight figure that can be used in regular Mage Knight miniature war gaming. In addition to the figure in every box, the packs of Mage Knight cards will also include randomly inserted redemption cards that will be exchangeable for various Mage Knight figures.
In other important product announcements at Gama, Upper Deck indicated that it would be releasing booster packs for its Survivor CCG in June.

These packs will include the cast of Survivor II, which is set in the Australian outback.

Another June release from Upper Deck involves the robot-like 'Bionicles' created by Legos.

The Upper Deck Bionicles game will tie into a massive $50 million marketing campaign for the brand.