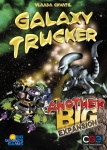 Rio Grande games will soon begin US distribution for the second expansion set for its Galaxy Trucker game: Another Big Expansion.
Like the first expansion, Another Big Expansion comes in a full-size box and features a number of expansion materials that can be used separately or together, including new technologies, new vessels, new maps, and intruders. The expansion also includes ways to balance the game to favor less-experienced players.
Galaxy Trucker: Another Big Expansion requires the basic game to play, and can be used with or without the original Big Expansion. Designed by Vlaada Chvatil and illustrated by Radim Pech. The suggested retail price will be $49.95.