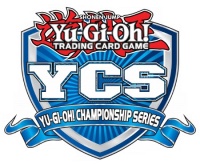 The second Yu-Gi-Oh! Championship Series event for this year will be held in Austin, Texas on March 23-24. Registered participants will receive five booster packs from the Cosmo Blaster series and an event-exclusive Token card.
One round will be held on each day of the event, with top 16 or 32 players (depending on number of participants) earning invitations to the 2013 World Championship Qualifier.
Dragon Duels for younger players will also be held, with the top four players earning Dragon Duel Champion's Medals, play mats, and t-shirts, as well as an invitation to the 2013 Dragon Duel World Championship Qualifier.
Additional side Public Events will include Regional Qualifiers, 3 vs. 3 Team Dueling, Attack of the Giant Card!, Win-a-Mats, Xyz Symphony Starter Deck tournaments, Onslaught of the Fire Kings Structure Deck tournaments, and sealed pack tournaments.
The winner of the main event will receive an Ultra Rare "Digvorzhak, King of Heavy Industry" prize card, with a Super Rare version going to runner-up players and winners of the side events. Other prizes will be awarded to the top 16 players, or the top 32 if attendance exceeds 513.