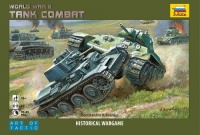 Zvezda will release Tank Combat, another of its World War II wargames using the Art of Tactic system, in April. Players command a squadron of tanks, German or Soviet, battling in Eastern Europe. Unit cards display the capabilities of each tank unit, and players mark their orders on their unit cards simultaneously and in secret.
Game components include six 1/100 tank models, four double-sided gameboards, terrain tiles, game cards, player aids, ten dice and two water-based markers, all for $29.95.
Tank Combat is best suited for use with Barbarossa 1941, but is compatible with all World War II Art of Tactic Games.