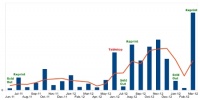 We caught up with Atlas Games president John Nephew at the GAMA Trade Show and asked him how sales on Gloom had changed since its appearance on TableTop last year. "TableTop exposure had an instantaneous effect, and one that appears to be enduring," he said.
Sales data Nephew provided in the form of the graph accompanying this article shows the change in monthly sales of the core game before and since the TableTop episode was posted, and indicates that the impact may even be accelerating. The graph also shows the impact of sell-outs on sales.
Here's how Nephew explained the graph:
"The blue bars show unit sales in a given month; the red line is a three-month moving average to smooth out the fluctuations (e.g., a distributor who typically restocks once per month may have two orders 30 days apart that wind up in the same month; when the game is reprinted after a brief out-of-stock period we usually have a burst of sales as many customers replenish stock at once)."
"The range of sales for Gloom that you see between June 2011 and May 2012 is pretty typical for the game going back to when we first released it in January 2005, during which time it's usually been our top seller. The March 2013 bar reflects month-to-date, and we still have another week of sales left before April."