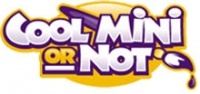 Kickstarter is a major component of CoolMiniOrNot's publishing model. Company co-founder David Doust spoke about Kickstarter at some length at a press conference at the recent Gama Trade Show.
Doust believes that Kickstarter offers benefits not only for his company, but for its retailer customers as well. "We have been successful in five Kickstarters," he said. "We're doing our sixth right now that is over $1.2 million, I think, today. That enables us to give very high quality components and quick delivery dates, and also spike a lot of interest so that the distributors and retailers down the road will benefit from it."
Doust also described CoolMiniOrNot's retailer support programs. "In addition to the Kickstarters, we also support the retail stores," he said. "We have over 400 Legion members that go to the stores to demonstrate all our games; we have a magazine; and we also have a convention coming up that will teach people how to play the games and train our volunteers to go to stores. We also have an exclusive figure with ACD for
Rivet Wars
(see "
CoolMiniOrNot's 'Rivet Wars'
") that will be only an in-store figure as well. For
Zombicide
, we have a "game night kit" so that you can get exclusive zombivors and survivors so retailers can participate in that if they feel that they missed out on the Kickstarter itself."
When asked by ICv2, Doust also denied that retailers lost sales because of the customers who purchase games through Kickstarter directly. "When we do a Kickstarter, normally we get about five to six thousand backers," he said. "That couldn't possibly be the whole population. That's a very small sub-group. So, maybe in your store you have the alpha-gamer who bought into our Kickstarter, but he will also bring that game into the store. That becomes the store salesman to sell the store more games. So this is just marketing for us. Our end goal is to have our games in the stores."
"I think it's a win-win situation because there are thousands of games out there. In order for us to get awareness, Kickstarter makes the most noise. So once we sell 6,000 games, then the distributors know this game's got legs. All these people got into it and then the retailer will follow suit and I think it's good for everybody."
It certainly seems to be working on the Kickstarter end. The
Zombicide: Season 2
Kickstarter (referred to above, by Doust), finished on March 31st at $2,255,018, with 8,944 backers. As more Kickstarter projects get to market, the implications for trade sales will become clearer. But for now, Doust believes that retailers sell more because of the Kickstarters, not less.