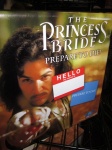 Game Salute's Chief Sales Officer James Takenaka was on hand at the recent GAMA Trade Show, and was kind enough to reveal a few insights about the company's plans for its Princess Bride licensed games, and a couple of it's latest and greatest releases.
The Princess Bride
Game Salute plans to release two different types of games based on The Princess Bride film. The first game will be a party-style game for large groups, called Princess Bride: Prepare to Die. Takenaka describes the idea behind the game:
"We are working on different kinds of party games, and what we call storybook games. Our first release is going to be Princess Bride: Prepare to Die. It's kind of a party game format, but it's kind of an Apples to Apples version of Princess Bride. You'll be like, 'Hello, my name is Arnold Schwarzenegger... you ate my pie, prepare to die!' or something like that. And there will be a judge, who determines what the best mixture of the statement was."
Princess Bride: Prepare to Die is schedule to release at Gen Con.
The second Princess Bride game is intended to be a series of tabletop games that allow players to re-create scenes from the film:
"What we're looking at doing is a bunch of mini games, where you can play just a mini game of a certain chapter in the story of the Princess Bride, or you can put all those little mini games together to play out the whole movie."
The Princess Bride: The Board Game is expected to release in time for the holiday season.
In addition to the forthcoming Princess Bride games, Game Salute recently released two new titles that Takenaka believes will become some of the company's best-sellers. Both games were released on March 15th:
Zpocalypse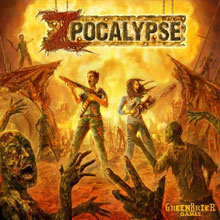 Yet another zombie survival horror game,
Zpocalypse
was launched following a very successful Kickstarter campaign. Takenaka describes this game this way:
"Basical Zombie survival. You play as a team of characters trying to survive the zombie apocalypse. You probably won't survive... but you work as a group and you try to kill as many zombies as possible, complete missions, get food, get ammo. This is a 60 dollar game, just came out March 15th, but it's doing really well for us. I believe this will become our best-seller to date."
Zpocalypse includes 20 double-sided game board tiles, 135 game cards, 12 dice, and 38 unpainted plastic miniatures.
The first expansion, Zpocalypse Zmaster, allows a fifth player to join the game as a "zombie master" who controls the hordes of undead. This was originally included as a bonus for the Kickstarter backers, but will be released as a supporting product in June.
Keyflower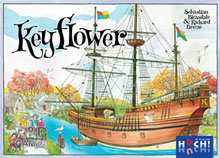 Another noteworthy recent release was Sebastian Bleasdale and Richard Breese's hit
Keyflower
, for which Game Salute has acquire the rights for a US version. This was a big hit at last year's Spiel fair in Essen, Germany, and has reached a respectable 158 in the BoardGameGeek ranking.
Keyflower is a worker placement game set in the medieval period. Players use their workers to gather resources or bid for tiles that are added to their villages through the seasons of the year. Victory points are awarded for combinations of tiles, resources, and skills collected during the game.
Keyflower was not a Kickstarter project. Game Salute is selling it through their normal distribution channels.