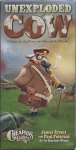 Cheapass Games, which earned its name from its line of no frills card and board games, has re-emerged with reprints of two of its most popular titles. Like many games lately, the reprints of Unexploded Cow and Deadwood Studios USA have been funded through Kickstarter. Company founder and star game designer James Ernest was kind enough to chat with ICv2 at the recent GAMA Trade Show and share some details.
Unexploded Cow
When Ernest decided to restart his company, he elected to begin with an upgraded version of on of his more successful games: the tongue-in-cheek game of mine-hunting bovines called Unexploded Cow. As he explains: "We decided to do a deluxe reprint of one of our favorite games, Unexploded Cow. It was popular back when it was still in print, and, we needed to raise some money to restart Cheapass Games. We had a pretty low goal. We needed 10,000 dollars. We got about $40,000. And that was enough to do improved contents of the game and a few extra things for our backers, and to print enough that there's plenty to go into retail and distribution."
Unexploded Cow plays with two to six players, and takes about 25 minutes to play. The suggested retail price is $25.
Deadwood Studios, USA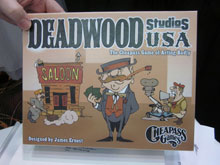 Ernest followed-up with a second successful Kickstarter campaign, which just closed on April 2: "We're doing another Kickstarter right now for
Deadwood Studios
, which is a reprint of our 1999 game
Deadwood.
That's a game about making cowboy movies. We made it in 1999 in the old black and white box, and now we're upgrading it with a $40 box. It's a board game with lots of components inside and artwork from Phil Foglio and the whole nine yards."
Deadwood Studios, USA is a game for two to eight players. The suggested retail price will be $40.