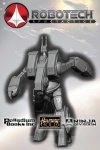 Robotech RPG Tactics, the collaboration between Palladium Books and Ninja Division (see "Ninja Division on 'Robotech Minis'"), has raised over twice its goal in the first hours since launch of the Kickstarter project. As of this writing less than 24 hours after launch, it's at around $165,000 from over 1,000 backers, easily topping its $70,000 goal and very close to the $180,000 first stretch goal.
The game will be released to the trade late this year. It includes:
Full color, 90+ page, softcover rulebook
24 Battle Dice
40 color game cards (unit cards, etc)
4x VF-1A Veritech Valkyries (in Fighter, Guardian, and Battloid modes)
1x VF-1J "Officer" in all three modes
2x Destroids (includes parts to make them Tomahawks, Defenders, or one of each)
12x Regult Zentraedi Battlepods
1x Glaug Officer's Battlepod
Some of the sculpts are already done and have been approved (see "Preview: 'Robotech RPG Tactics''').