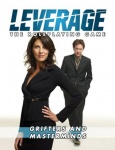 Margaret Weis Productions' Marvel Heroic Roleplaying is ending after barely one year in production (the first product was released in Spring 2012, see "Marvel Heroic Roleplaying"). The company explained on its blog. "[T]he economics of licensing a tie-in product is always something we have to weigh carefully," the post said. "We brokered an admittedly ambitious license with Marvel. Our first event, Civil War, was successful and well received, but it didn't garner the level of sales necessary to sustain the rest of the line... We will not be bringing any new product out under the Marvel line."
MWP will release Firefly RPG: Echoes of War, a print collection of adventures that will be released first as PDFs this year, in 2014. "Wedding Planners," the first adventure in the series, will be written by Weis, and will be "a lover letter to Serenity fans" (MWP published a Serenity RPG before it obtained the Firefly license, see "New 'Firefly' RPG"), and bring them up to date on the evolution of MWP's Cortex system. "Shooting Fish," the second adventure, will be written by Andrew Peregrine.
MWP will release two products for its Leverage RPG, based on the recently canceled TNT series, in June. Two products solicited as separate books, Grifters and Masterminds and Hitters, Hackers and Thieves will now be released as a single volume. And ten vignettes will be collected into a single print volume.