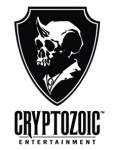 Cryptozoic Entertainment has reduced its roster of U.S. distributors for entertainment trading cards to two: GTS Distribution and Diamond/Alliance. In Canada, only Grosnor Distribution and Universal Distribution will be Cryptozoic distributors. Barrington Square, Dave & Adam's Card World, and Hill's Wholesale will be the only authorized online dealers for Cryptozoic trading cards.
The new policy takes effect with releases after July 1, 2013. It does not affect distribution of the
World of Warcraft Trading Card Game
, which is now the only Cryptozoic product with a full roster of distributors; the company went exclusive for its other game products in March (see "
Diamond-Alliance Gets Cryptozoic Exclusive
").
Cryptozoic COO Scott Gaeta explained the reason for the change. "We have been inundated with requests to buy direct and we are just not equipped to handle that volume," he said. "Now you are essentially going direct when you use one of our authorized direct agents. We will be working very closely with each of these partners and have full transparency to make sure product is going to the accounts that have supported us from the beginning..."
Cryptozoic promises that new promotional programs for entertainment trading cards will roll out in the coming months.