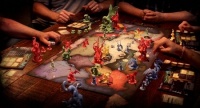 Cthulhu Wars,
a strategy/horror board game based on Lovecraft's classic Cthulhu mythos has already passed the million dollar mark on Kickstarter, with around two days to go. As of this writing, it has raised $1,122,132 (crushing its $40,000 goal), with 3,758 backers and 46 hours left before it closes. If the project closed today, it would be the #7 tabletop game Kickstarter of all time.
UPDATE: The project ended at $1,403,981!
Designed by Sandy Petersen, who designed the original
Call of Cthulhu
role playing game for Chaosium,
Cthulhu Wars
is a massive boxed game, complete with four factions (Great Cthulhu, Black Goat, Crawling Chaos, Yellow Sign), 64 high detailed miniatures (28mm scale), faction cards, 20 dice, counters, rulebook and a massive 40 x 20 inch reversible gameboard. There are numerous exclusives, stretch goals and bonus add-ons in the Kickstarter, from signed art prints and exclusive dice to a digital art print book and upgraded expansion sets.
The game is different from other Cthulhu-based boardgames because players actually take the roles of The Great Old Ones returning to Earth to lay claim to humanity, rather than defending humankind from madness and ruin. This is a competitive strategy game for three to five players, where players take roles as cultists and monsters, build mystic gates, and awaken Great Old Ones. The goals are to earn spellbooks, destroy enemies, and capture opponents' bases.
In response to a request for clarification on a trade release, including release date and product configuration, Petersen said, "We are indeed planning to offer the game commercially, but as a special product, some of the expansions may not have very large print runs."