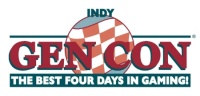 Another successful Gen Con wrapped on Sunday, with record pre-registrations and record exhibit space setting the stage for what's almost certain to be record attendance when the numbers are tallied for North America's largest annual tabletop game convention. Last year's show topped 41,000 uniques (see "
Gen Con Nets 41,000 Unique Attendees
").
Gen Con occupied about 90% of the exhibit space (all but Hall A) at the recently expanded Indiana Convention Center, had extensive gaming at the Convention Center, and also used space at nine hotels. Exhibit space went up by 20,000 square feet this year. Next year the show will occupy the entire Indiana Convention Center, and will have to find other ways to expand when it hits capacity in that space.
Hotels were maxed out. The room block sold out in 17 minutes when originally opened months ago, and every hotel within 40 to 50 miles of the Indiana Convention Center was sold out, according to a spokesperson for Visit Indy (the marketing agency for Indianapolis). The show brings $47 million in economic activity to the region, according to the agency.
Sales on the floor seemed brisk, especially for show exclusives or early releases. There were lines and rushes at the exhibit hall opening each morning. Among the products causing lines:
Shadowrun 5th Edition, from Catalyst
Pathfinder Adventure Card Game, the deck building game in the Pathfinder universe, from Paizo
High Command, the deck building game in the Warmachine (and Hordes) universes, Level 7 (Omega Protocol) and show exclusive miniatures, from Privateer Press.
DC HeroClix: Trinity of Sin Team Pack and Marvel HeroClix: Shuma-Gorath Super Booster, among others, at WizKids
New Star Wars X-Wing ships at Fantasy Flight Games
Firefly Board Game at Gale Force 9
Gaming in the 'Verse, a limited edition for the Firefly RPG, at Margaret Weis
Robotech miniatures for Robotech RPG Tactics, from Palladium Books