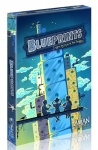 Yves Tourigny's new game
Blueprints
is scheduled to release at the
Spiel
game fair in Essen, Germany this October. Z-Man Games plans to release it in the United States about one month after the show.
In
Blueprints
, players try to construct three different structures by stacking dice in the patterns shown on the "blueprint" cards. The dice chosen can provide certain benefits to the player. At the end of each round of play, the blueprints are revealed and players can win points for matching their blueprint.
Blueprints
will have an MSRP of $29.99. The game will include 32 six-sided dice with a cloth storage bag, 45 game cards, and player screens.