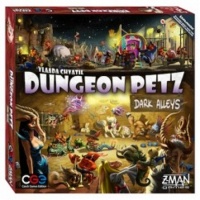 Z-Man Games has provided North American release dates for its new board game titles that premiered at Spiel in Essen last month, as well as releasing info on
Dungeon Petz: Dark Alleys,
a previously unannounced expansion.
First up will be the dice-building architect game
Blueprints
,
releasing the week of November 25th.
This will be followed the week of December 9th (or December 16th "depending on transport delays") by the release of
Agricola World Championship Deck
,
Bruxelles 1893
,
Carcassonne--South Seas
,
Ginkgopolis : The Experts
,
Glass Road
,
Russian Railroads
,
and the return of
Ricochet Robots
.
January 2014 will bring the release of
Tash-Kalar: Arena of Legends
, as well as the expansion
Dungeon Petz: Dark Alleys
.
The
Dungeon Petz:
Dark Alleys
expansion adds a whole new district to
Dungeon Petz
, along with new pets (including the Dire Bunny), cages and magic items. Now players can hire an illegal worker or buy a pet on the black market. The new items also allow players to play an extended game (6 rounds with four players, or 7 rounds with two or three players).
Designed by Vlaada Chvatil (
Galaxy Trucker, Dungeon Lords),
this expansion requires the base game to play. The game is for 2 – 4 players, and plays in about 120 minutes. The box contains 1 two-sided Progress Board extension, 1 two-sided Dark Alleys Board, 9 pets with rotating wheels , 10 plastic fasteners for Pet assembly, 9 plastic imps (2 in each color and one black), 3 cage tiles, 2 add-on tiles, 2 customer tiles, 2 exhibition tiles, 3 artifact tiles, 6 facility tiles, 8 accessory tiles, 4 permission tiles (1 in each color), and a rulebook. MSRP is set at $39.99.
The box contains 84 Being Cards, 24 Task Cards, 12 Flare Cards, 68 Double-Sided Cardboard Pieces, 12 Legendary Cardboard pieces, 4 Double-Sided Score Boards, a Double-Sided Game Arena and a rulebook. MSRP is set at $64.99. The game will release in January.