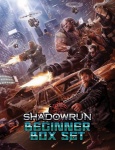 Catalyst Game Labs has announced plans to split the
Shadowrun Introductory Box Set
into two separate releases. The
Shadowrun Beginner Box Set
and
Shadowrun Runner's Toolkit: Alphaware
will both be released in April.
Catalyst had announced the
Introductory Box Set
, which would be the first ever "starter" box for the
Shadowrun RPG
, as part of the "Year of Shadowrun." In a letter to retailers, Catalyst admitted that the overall product "was trying too hard to do too many things." Not only did they feel the price point was too high for an introductory item, it was too much information for new players to process. Conversely, existing players would find much of the material repetitive, and not worth the purchase price. So they split it into two items, and pushed back the release to April.
The
Shadowrun Beginner Box Set
will include a 24-page Universe Primer, Quick-Start Rules, a pre-generated booklet (for a gamemaster and one person to run a solo adventure), four pre-generated character sheets, and dice (D6s). MSRP on the set is $19.95.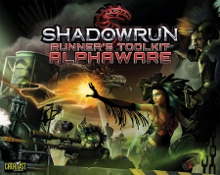 The
Shadowrun Runner's Toolkit: Alphaware
will be focused on helping existing players obtain useful tools for
Shadowrun 5E
, while still acting as a bridge for new players moving past the
Beginner Box
into
5E.
The box contains the
Rules of the Street
rulebook, information and background of the Sixth World in The Edge of Now, adventure and tip guide for GMs in Plots and Paydata, eight double-sided maps, quick reference cards (spells, weapons, gear) , pre-generated characters, and a series of interlinking adventures. MSRP is set at $59.99
Catalyst also shared that the Toolkit contains the "Alphaware" suffix to differentiate it from forthcoming publications of
Runner's Toolkit: Betaware--
which will be the
5E
version of the
Shadowrun Fourth Edition Runner's Toolkit.
"The Year of Shadowrun" runs from May 2013 to May 2014; for info on other
Shadowrun
and Catalyst products see "
'Shadowrun: Crossfire' this Fall
."