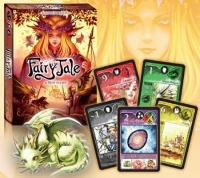 Z-Man Games has announced two new card game releases for spring: a second edition of
Fairy Tale
and
Arboretum
; as well as more information on the board game release of
Vikings.
Fairy Tale
is an updated version of the Japanese game Z-Man published in 2004, designed by Satoshi Nakamura. The new edition of the introductory-level card drafting game includes new cover art by Chris Quilliams, a new variant by Richard Garfield, and five new expert cards that will "change the entire game."
Players draft cards to get combos from the cards in their hand, or grab cards they see their opponents might need to sabotage them. The game is played in four rounds, after which, each player should have 12 cards, the points are totaled, and the player with the highest score wins. The box includes 110 cards and rules. The game is for 2 – 5 players, ages 13 and up, and plays in 30 minutes. MSRP is set at $19.99. The game is scheduled to release in March.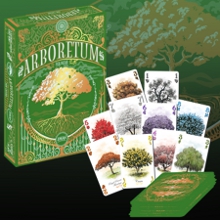 Arboretum is a light card game designed by Dan Cassar (
Caveman--The Quest for Fire
) combining the mechanics of set collection, tile laying and hand management. Players attempt to grow their own botanical garden through careful planning of which tree species (lilac, willow, maple, or others) they plant. The box includes 18 cards, a score pad, and rulebooks in English and French. The game is for 2 -4 players, ages 10 and up, and plays in about 30 minutes. MSRP is $19.99. The game is scheduled to release in Q2.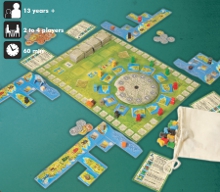 Z-Man also released additional details on their reprint of
Vikings
(see "
Z-Man Reprinting Popular 'Vikings' Board Game
"). The box will contain 4 Mainlands, 62 Island tiles, 14 Ship tiles, 8 player markers, 25 Special tiles, 45 Gold pieces, 1 Start Player Ship, 78 Vikings, 4 scoring cards, a rotating wheel, a game board, a cloth bag, a rulebook and a supplementary sheet. The game will be released in Q2 and have an MSRP of $59.99.