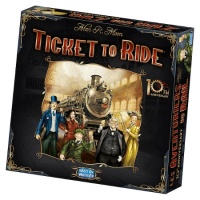 Days of Wonder has announced a new version of its best selling train adventure board game,
Ticket to Ride 10th Anniversary Edition,
for release in June.
Click on any picture for better view.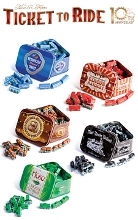 Designed by Alan R. Moon,
Ticket to Ride
has sold over three million copies since it was introduced in 2004. The new edition will be packaged in an oversize game box with new art, and includes a giant U.S. board map that is 50% larger than the original, which also features new illustrations and design. The five sets of plastic trains will each have a different type of train car and unique paint scheme, which can be stored in tin train storage boxes unique to each rail line. The box will also include 110 large format Train cards, 69 Destination Tickets (which include both the original US map tickets plus those from the
USA 1910
expansion), and a multi-lingual rulebook.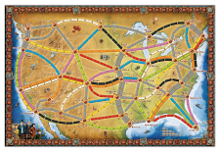 The game is for 2 – 5 players, ages 8 and up, and plays in 45 minutes. MSRP is $100.