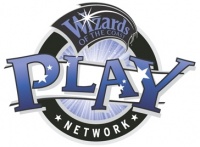 Wizards of the Coast announced a new Advanced Plus level for its organized play program and updates to its Event Reporter at GAMA Trade Show, and provided ICv2 with answers to some questions about the changes.
Beginning in June with the
Magic 2015
prerelease, WotC will introduce the new Advanced Plus organized play tier. The new level is designed to give authorized stores more of the limited products to support their larger player communities, with increased quantities of limited products (such as
From the Vault
), higher purchase levels of Buy-a-Box promo cards, and special support items including calendar white boards and tablecloths.
Retailers wishing to achieve the Advanced Plus tier must submit a Quality Agreement (which will be available by the end of April) to WotC and agree to abide by the expectations of service and "Play Quality Standards."
A Wizards of the Coast spokesperson responded to our questions about the move.
What prompted the addition of this new tier?
As the Wizards Play Network has grown over the past six years, we have seen an increased percentage of WPN retailers move into the Advanced level. While this has certainly been a great evolution for our account base and business, it has also presented us with the challenge of being able to differentiate the vast range of stores that now exist in the Advanced Level. We decided to add the Advanced Plus level to identify and recognize the very best retailers in the WPN, and to establish quality guidelines for other WPN stores to strive toward.
Are there changes to requirements for the Gateway, Core, and Advanced levels?
There are no changes to our previously existing WPN level requirements with the introduction of Advanced Plus. While the Quality Agreement is not necessary to be part of the WPN, we suggest that retailers review the Quality Agreement and think about how those ideas can be implemented in their own store regardless of their current level.
Are there any other questions that keep coming up during this sign-up period
?
Many stores have asked about "Delinquent Events" and what those are. A helpful way to think about it is like an overdue library book. A "Delinquent Event" is considered "Delinquent" until it is cancelled (reported as "did not happen") or the results are submitted to Wizards--much like a library book is considered overdue until it is returned. However, unlike a library book, Wizards does not charge a penalty based on how long an event was "Delinquent." Once the event is cancelled or results are submitted, it is as if it was never "Delinquent" in the first place.
What changes are planned to the Events Reporter?
We have a number of updates and improvements coming in the next few months to help retailers grow their business and improve their WPN level. In addition to our WPN website redesign, Wizards Event Reporter (our tournament software) will also receive some improvements to make it more user-friendly. We're excited to share these changed with our WPN retailers as they happen and hope that they find them useful in developing and growing their stores further.