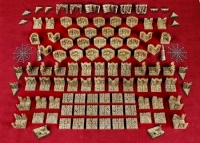 Dwarven Forge has completed another extremely successful Kickstarter funding campaign, netting $2,140,851 from 3,950 backers, to fund the
Caverns
set of their new Dwarvenite game tiles terrain.
This has surpassed the previous Dwarven Forge Kickstarter, which last year netted $1, 908,155 from 5,398 backers (see "
'Game Tiles' Kickstarter Tops $1.9 Million
"), and will put it at #4 on our soon-to-be-updated Top 10 Tabletop Kickstarter list (see "
Top 10 Tabletop Game Kickstarters
").
The Kickstarter last year allowed Dwarven Forge to begin converting their existing resin terrain line, which DF says "is costly and a little bit fragile," to the new Dwarvenite casting material.
DF described the new material in the Kickstarter thusly: "It's a non-toxic, PVC based material, specially compounded to hold precise detail, take paint well, and withstand a serious beating. About the same density as resin, Dwarvenite has a wonderful, tactile feel. In last year's Kickstarter, Dwarven Forge President Jeff Martin threw the original
Dwarvenite Game Tiles
off a 10-story tower, and then ran them over with his truck – and there was not even a scratch."
The new
Caverns
pieces are available in two finishes, Dungeon Gray or Expertly Hand Painted, though this second finish comes with a premium price. So while there were fewer backers overall for this second Kickstarter, they bumped their average pledge up from $353.49 to $541.99.
We've requested information on trade release plans but did not receive an answer in time for this article. We'll update when we have more info.