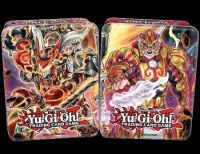 Konami Digital Entertainment has released details for the
Yu-Gi-Oh! 2014 Mega-Tins
releasing on August 29th. Konami also noted that, unlike previous years, this will be the only wave of
Mega-Tins
released.
The two
Mega-Tin
designs are based on powerful tournament Deck themes: Bujins and Fire Fists. The tins can be placed side by side to construct a mural of
Yu-Gi-Oh!
monsters. The tins themselves are over 15% larger than in previous years, to maximize storage space for Duelists' cards.
The tins will contain three 16-card Mega-Packs, which will each contain cards from a year's worth of core booster sets with the following rarity breakdown: 12 Commons, 1 Rare, 1 Super Rare, 1 Ultra Rare, and 1 Secret Rare. Each tin will also include three variant cards supporting the tin's theme (Bujins or Fire Fists): 2 Super Rares and 1 never-before-seen rarity--a Platinum Secret Rare version of the
Mega-Tin
cover monster. So each tin will include 51 cards, which includes 12 foil cards. MSRP is $19.99 each.
To peruse other upcoming
Yu-Gi-Oh! TCG
release, see "
More 'YGO' 2014 Releases
."