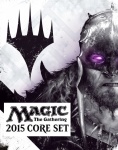 Wizards of the Coast will release
Magic: The Gathering – 2015 Core Set
in July. The 269-card set will be available in
Booster Packs
,
Intro Packs
,
Fat Packs
and the new
Clash Packs
.
The 269-card set is slightly larger than the
2014 Core Set
, which had only 249 cards. So far the two spoiler cards of note are "Waste Not" and "Wall of Fire," which were both used as examples of the new card design changes debuting with this set (see "
First Look at 'MTG: 2015 Core Set'
"). The tagline for the set is "Hunt Bigger Game."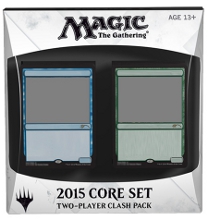 Another new addition debuting with this set is the
Clash Packs
. Wizards was quick to point out that the
Clash Packs
are not replacing
Event Decks
, but rather will alternate with the
Event Decks
for set releases. (In
M:TG
set slang, if there is an
Event Deck
for the "Huey" release, then there will be a
Clash Pack
for the "Dewey" release, and back to
Event Deck
for "Louie.") Intended as a way to introduce new players to higher level play and customization of a deck, the included instructions show players how to combine cards from each pre-constructed deck to create a new deck equal in power to an
Event Deck
. The two-player
Clash Pack
will come with two ready-to-play 60-card decks, six premium foil cards with alternate art, a deck box, a strategy insert, and a
M:TG
rules reference card. MSRP is $29.99.
WotC will support the release with the normal program of events. Pre-release events will occur on July 12-13. Launch Weekend will be July 18-20. The Pro Tour Event will be held in Portland, Oregon on August 1-3. Game Day will be August 9-10.
Aaron Forsythe led the initial design team for the M15 set, while Billy Moreno headed up the Final Game Design and Development Team. The
2015 Core Set
follows the release of
Journey Into Nyx,
the third set in the
Theros
block (see "
'M:TG--Journey into Nyx'
" and "
Top 10 'M:TG--Journey into Nyx' Cards Before and After the Pre-Release
").