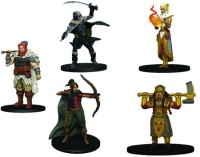 WizKids has released details for the products in its collectible
Dungeons & Dragons Fantasy Miniatures
line, created for use with the new
D&D RPG
. The first products will be the
Starter Set Heroes
in July, and
Set One
boosters in August. The line was announced in February (see "
WizKids Creating 'D&D' Miniatures
," which also includes some pictures), and WizKids CEO Justin Ziran explained more details at Toy Fair (see "
'D&D Minis' Accessory and 'Attack Wing: D&D'
"). Boosters will employ blind packaging.
The
Starter Set Heroes
will include six miniatures of iconic heroes, for use with the upcoming
Dungeons & Dragons
tabletop roleplaying game
Starter Set
. MSRP is $19.99.
In August, the
Set One Standard Booster
will arrive. The set will contain more than 50 miniatures of humans, elves, dwarves, halfings, orcs, goblins, and other characters from the Forgotten Realms universe of
Dungeons & Dragons.
The blind-boxed boosters will contain four figures each, with an MSRP of $15.99. Each
Booster Brick
contains eight boosters (32 figures), and cases contain four bricks (32 boosters/128 figures).
There is also a purchase-with-purchase
Case Incentive Promotional Figure
, which will be available on a one-to-one basis with cases of the
Set One Standard Booster,
while supplies last
.
While there was no name or picture available, the figure is described as an adversary for adventurers, standing several inches tall, and towering over the other miniatures in the set. The figure will release August 13th, and has an MSRP of $29.99.