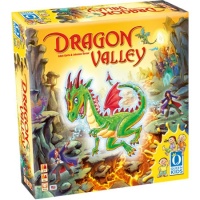 ICv2 had a chance to chat with Keith Blume of Queen Games at the recent ACD Games Day, and he was kind enough to show Queen's new cooperative family game,
Dragon Valley
, designed by Julien Gupta and Johannes Berger.
In
Dragon Valley
, the players must work together to move their dragon "younglings," represented in the game by wooden pieces. This is a dexterity game, where the players must pick up the wooden dragons using their "magic wands" and "levitate" them to safety. Players can even adjust the difficulty based on the age of the players by using different-sized wands and special "sorcerer tiles" that add challenging requirements to moving the dragon tokens.
Blume credits the dexterity element of the game for its family-friendly play:
"It's interesting because with the dexterity side of it, the kids can be as good as the parents. So, we think it's more family-oriented than kid-oriented."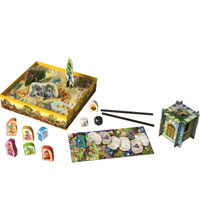 Dragon Valley
will be released in four to six weeks in the US, with a suggested retail price of $39.99. The game was released early in Germany to make it eligible for the
Kinderspiel des Jahres
award.