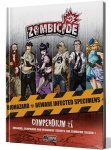 CoolMiniOrNot and Guillotine Games have shared information about upcoming releases for their hit board game
Zombicide
(see "
'Zombicide' Hits 60,000 Copies
")
,
which include a
Compendium, Season 3,
and the
Angry Neighbors
expansion.
Most imminent is the release of
Zombicide Compendium #1
, which will release in the next month. The
Compendium
is a 92-page book which includes updated version of all the official campaigns and missions published for Season 1 (both official releases and fan submission winners for the Kyoko mission contest), as well as new missions, a designer's note, and an exclusive campaign (Boomtown) created for the book.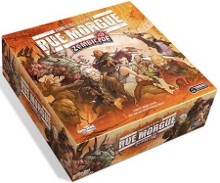 Zombicide Season Three: Rue Morgue
was announced at the CMON Expo at the end of May. Season Three will introduce 12 new survivors, because the game will now incorporate a team dynamic. There will be several ways teams can be utilized, depending on the desire of the players. A single player can divide his or her survivors into teams, to be used in either cooperative or competitive game play. New zombies, called Skinners, are introduced, and when they are killed, they can turn into Crawlers. Hospital Beds and Tents will also be added. More details will be shared when the game goes live on Kickstarter the last week of June.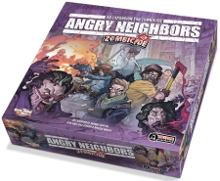 The
Angry Neighbors
expansion was also announced. The expansion includes minis (some hero, some zombie) in the image of campaign backers who pledged for the privilege, as well as Guillotine Games staff members. The expansion will also introduce Seeker zombies, who spawn and can extra-activate on the same card. A new terrain element, holes, which can trap heroes and zombies alike, will also be introduced.
Also teased was a stand-alone (not
Season Three
-specific) mini-expansion that introduces an RPG element for players who are interested in being immersed in the game.
Current Zombicide products include the retailer exclusive
Game Night Kits
("
'Zombicide Gaming Night Kits'
") and
Zombicide Season 2: Prison Outbreak
and
Toxic City Mall
expansion (see "
'Zombicide: Toxic City Mall' and 'Prison Outbreak'
").
Zombicide
ranked on the Fall/Winter 2013 Top 10 Board Game chart as well (see "
Top 10 Board Games--Fall 2013
").