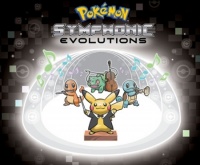 The Pokemon Company International has announced the 2014 Pokemon World Championships will be held on August 16-17th at the Walter E. Washington Convention center in Washington, DC. The event also coincides with the premiere of the official Pokemon live orchestral concert series,
Pokemon: Symphonic Evolutions
.
Full details on the World Championship event were not released beyond the date and location, which coincides with the concert series kickoff. The Pokemon Company is partnering with Princeton Entertainment for the concert series, which kicks off in DC on Friday, August 15th at the Warner Theater. The concert reunites creative producers from 2012's
The Legend of Zelda: Symphony of the Goddesses
concert tour.
Pokemon: Symphonic Evolutions
will take audiences on a musical retrospective with timed visuals through 20 years of the video game franchise's most memorable melodies. So far, only the Washington DC and Philadelphia tour dates have been announced, with more dates and locations to follow at a later date. Ticket prices for the Washington DC show range from $50 - $82.50 before ticket fees.