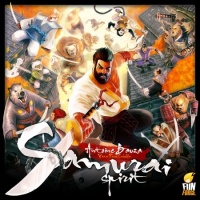 Funforge, which is distributed by Passport Games in North America, will release the cooperative board game
Samurai Spirit
, which will have a preview at Gen Con.
Designed by Antoine Bauza (
7 Wonders, Hanabi
), players take the roles of members of a samurai squad cooperatively defending a farming village from bandits. Each samurai has a unique beast essence which is invoked as fighting intensifies, but that quality also bring the samurai closer to death while increasing their power. Over the course of three turns, players must decide if they will battle bandits, defend the village, or help other samurai. In the end, the village must have at least one undamaged farm with enough farmers to tend it for players to win.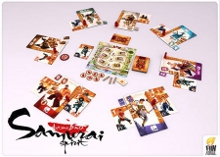 MSRP and trade release for North America information were not announced. Funforge and Passport will preview the game at Gen Con.