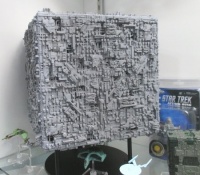 San-Diego Comic-Con News:
WizKids had several upcoming products on display at San Diego Comic-Con, including figures from
Star Trek: Attack Wing,
which included this gigantic prototype
Oversized Borg Cube Expansion Pack
, which will release on November 19th.
(Click picture for larger view.)
Jerome J. Gonyeau, Marketing and Product Coordinator for WizKids described the massive miniature, "The oversized Borg Cube will be a force onto itself, and we're targeting November release." The final piece will be done in gunmetal, with copper rust highlights, and then drybrushed. "One of the really interesting things, if you look closely, is that there are spaces in the face of the cube, and on the inside, I believe there will be a green film, to give it that Borg-like lit-up look. It will be completely hollow inside."
The cube will measure 8-inch on each facing, and will come with ship cards, tokens and more. MSRP is $99.99.
The November release means the piece will drop near the end of the
Star Trek: Attack Wing-
-
Resistance is Futile
OP program (see "
'Resistance is Futile' OP Program
"), and just after the
Wave 9
releases (see "
More 'Star Trek: Attack Wing' Expansions
") which were bumped back to November 5th release as part of the revised release schedule.
Check back tomorrow for coverage of recently announced
Star Trek: Attack Wing--Deep Space 9 Expansion Pack,
which is a retail variant of the Grand Prize Dominion War Storyline OP from last February (see "
'Dominion War' OP Program
").