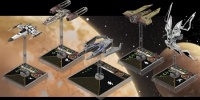 Gen Con News:
Fantasy Flight Games announced that a new third faction will be joining the popular
Star Wars: X-Wing
miniatures game with
Wave VI
: the independent contractors of the galaxy,
Scum and Villainy
, scheduled for fourth quarter release.
"What's particularly exciting about (
Wave VI
) is they represent a new faction in the game," said Fantasy Flight CEO Christian Petersen. "We've had Empire and Rebellion, and this introduces
Scum and Villainy
."
"This is the only wave that is entirely one faction," he said of the four packs that make of
Wave VI
. "They're basically all ships that support the new
Scum and Villainy
faction."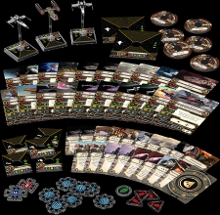 The largest of these releases is the
Most Wanted Expansion Pack
($39.95), which will include a slate of thugs, hired guns, pirates and spice runners, including a new version of Boba Fett. The three miniatures include a Y-wing with an alternate Scum-themed paint scheme and two Z-95 Headhunter miniatures with Black Sun paint schemes. The pack also includes ship cards, upgrades, tokens and dials that allow players to repurpose existing starships for the Scum faction.
The
StarViper Expansion Pack
($19.95),
M3-A Interceptor Expansion Pack
($14.95) and the
IG-2000 Expansion Pack
($29.95) all come with a single pre-painted miniature, as well as ship cards, upgrade cards, maneuver dial and tokens. The
IG-2000 Expansion Pack
is unique as the first
X-Wing
expansion that doesn't feature any non-unique ship cards, because each of its four ship cards represents one of the four identical IG-88 models that share a single mind.
This release will follow the Q3 release of the
Wave V
expansions (see "
Two Major Starship Expansions for 'Star Wars: X-Wing'
").