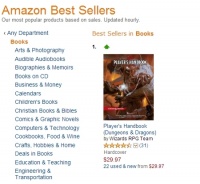 It's a screenshot worth framing and hanging, at least if you work for Wizards of the Coast. For the second day in a row, the
Dungeons & Dragons Player's Handbook
is topping not only Amazon's Science Fiction & Fantasy category, but is #1 overall in book sales, beating out such other essential back-to-school fare as
The Diagnostic and Statistical Manual Disorders, 5th Edition,
and
To Kill a Mockingbird.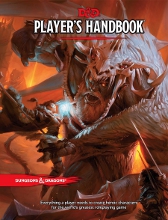 The
Player's Handbook,
which released to WPN retailers earlier this month (see "
Rolling for Initiative--'Dungeons & Dragons' Back, With Authority
") and then saw a Gen Con premiere, went into wide release yesterday. Sales have been "scary good" on the new
D&D
releases across channels, according to a WotC executive (see "
Business as Usual at Gen Con
").